news
US court orders 27 pirate site operators to pay $27 million to ABS-CBN
by ABS-CBN News — 06.04.19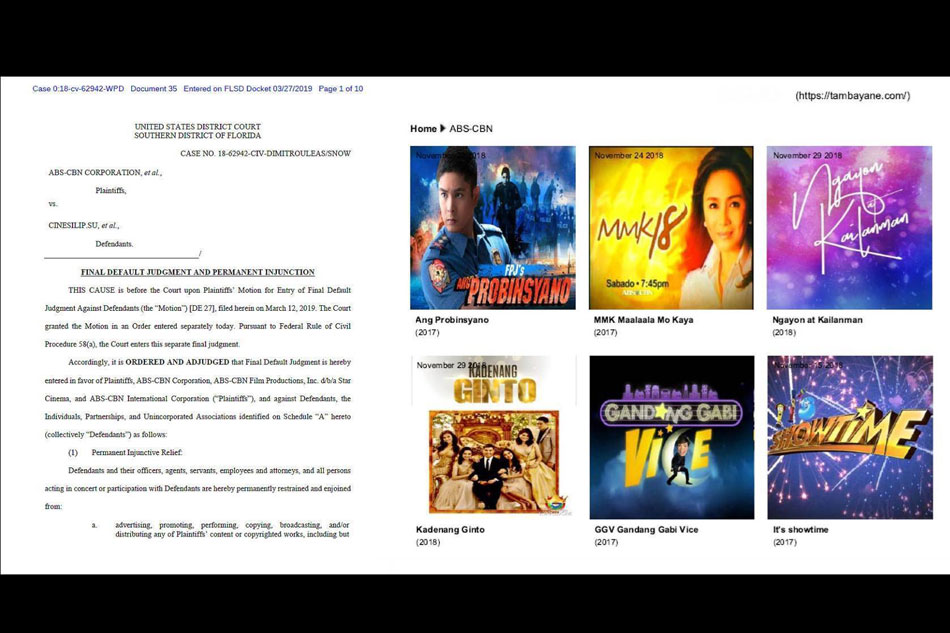 It was the latest legal victory in the US for ABS-CBN, the Philippines' largest media and entertainment company.
"It is another great legal victory for ABS-CBN. This substantial award by the US federal court sends the strong message that the content owner has the legal right to protect its content from being given away for free by pirates," ABS-CBN's Assistant Vice President of Global Anti-Piracy Elisha Lawrence said in a statement.
The lawsuit, filed in December 2018, impleaded more than three dozen domain names, including dramaofw.ch, vidco.su, pinoyflixtv.com, pinoytvlovershd.com, and tambayand.com.
The sites are streaming portals that offer access to Filipino content in the US and abroad and attracts visitors from all over the world.
As part of this judgment, any advertising revenue gained by these pirate websites will have to be handed over to ABS-CBN.
"Defendants' websites are operating in blatant disregard of the rights of ABS-CBN and willfully infringing ABS-CBN's intellectual property," Lawrence said.
"These pirates will be stopped wherever they are in the world," she said in a statement," she added.
The permanent injunction in the court ruling also requires the domain name registrars and registries of the pirate sites to transfer the domain names to ABS-CBN.
News.abs-cbn.com is the news website of ABS-CBN Corp.
The original article was first published here.